Swiss Made Pinned End Scroll Saw Blades by Pegas
Bear Woods carries a great selection of scroll saw blades with Pinned Ends - All made in Switzerland, of the highest quality.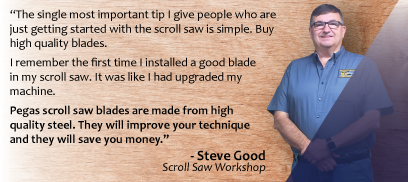 Please Note: Spiral Blades with Pinned Ends are not available.
Click here to Download the Pegas Scroll Saw Blades Selection Chart
5 Inch Pinned End Scroll Saw Blades
Pinned 5" Scroll Saw Blades are the same as our regular plain end scroll saw blades. Pinned end blades have good performance for use with 15" and 16" power scroll saws such as Sears Craftsman, Delta and Ryobi.
Suitable for Softwoods, Plywood, and Corian Plastics. Not Suitable for: Medium or Hard woods.

Browse below for our selection of 3 and 5 inch pinned ends scroll saw blades with Regular, Skip and Hook Tooth Geometry.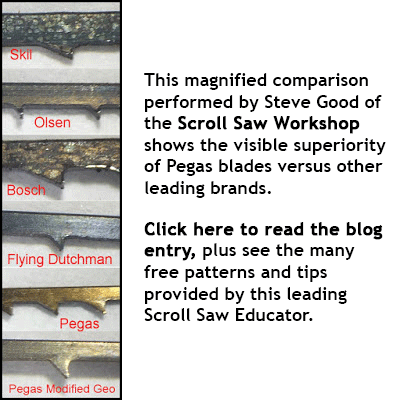 Pégas saw blades are manufactured in Switzerland from high-quality carbon steel and contain the highest possible carbon content for saw blade applications. Pégas also makes use of a proven fabricating process that produces crisp, sharp, precisely formed teeth. All the blades are heat treated and tempered to maintain uniform grain structure and to achieve the highest hardness possible. This process creates long-lasting durable blades, making them the finest in the world. Additionally, all Pégas scroll saw blades are capable of performing in power saw applications.
Take a look at the magnification image - you can actually see the difference in the quality of the steel. Steve Good compares Olsen Scroll Saw Blades, Bosch Blades, Flying Dutchman Scroll Saw Blades, and Skil with our Pegas brand scroll saw blades. Want more info? Take a look at the reviews right here, and along with each of the individual blades you'll see below.
How to Select Scroll Saw Blades:
1) Scroll Down to see selection by size of Scroll Saw Blades. Refer to the table above for manufacturing specifications and recommendations.
2) Enter Quantity Desired and Click "Add to Cart." Or call us and we'll be happy to take your order.
3) Shop by the dozen (12 blades) or by the Gross (144 blades). Add items to your cart as you go and proceed to checkout (the shopping cart button at the top of the page). You can change quantities at checkout as well. When you combine 3 or more gross packs of blades you will trigger the lower quantity price.
Sign Up for our Newsletter!
Download the Pegas Blade Selection Chart here!
Our SKU
Description
No #
Scroll Saw Blade Thickness
Width
TPI
Cutting Trace (Inch)
Optimal Thickness for
recommended material
Inch (mm)
Pilot Hole (Inch)
SSB-87
Pinned Regular 5"
20TPI
.0197
.1181
20
.0283"
1/6-1.06" (4-30mm)
3/16
SSB-88
Pinned Regular 5"
15TPI
.0197"
.1181"
15
.0283"
1/5-1.39" (5-35mm)
3/16
SSB-89
Pinned Regular 5"
10TPI
.0197"
.1181"
10
.0283"
1/3-2" (8-50mm)
3/16
SSB-90
Pinned Regular 5"
25TPI
.0098"
.0787"
25
.0157"
1/8-4/5" (3-20mm)
3/16
Pinned End Skip Tooth Scroll Saw Blades
These are the same configuration as our plain end Skip Tooth Scroll Saw Blades, also from Pegas.
Excellent for Hard and Medium-hard woods. Suitable for Softwoods, Plywood, and Corian Plastics.

Our SKU
Description
No #
Scroll Saw Blade Thickness
Width
TPI
Cutting Trace (Inch)
Optimal Thickness for
recommended material
Inch (mm)
Pilot Hole (Inch)
SSB-91
Pinned Skip 5"
9TPI
.0197"
.1181"
9
.0283"
2/5-2.33" (10-60mm)
3/16
SSB-92
Pinned Skip 5"
18TPI
.0098"
.0787"
18
.0142"
1/6-1.06" (4-30mm)
3/16

Pinned Ends Hook Tooth Scroll Saw blades

Special scroll saw blade with extra wide gullets for rapid cutting. This blade works like a miniature band saw blade. It is a very popular blade.
Suitable for: Hardwoods, Plywood, and Corian Plastics. Excellent for: Medium-hard woods, and Softwoods.



Our SKU
Description
No #
Scroll Saw Blade Thickness
Width
TPI
Cutting Trace (Inch)
Optimal Thickness for
recommended material
Inch (mm)
Pilot Hole (Inch)
SSB-93
Pinned Hook 5"
7TPI
0197"
.1181"
7
.0291"
2/5-3" (10-75mm)
3/16

3" Pinned End Scroll Saw Blades, Regular and Skip Tooth

Pinned 3" Scroll Saw Blades are the same as our regular plain end blades but with 2-3/4" pin center. Will fit popular hobby-type saws such as Dremel, Sears, Delta and Emco Lux.

SSB-95 and 96 are Excellent for Hard and Medium Hard woods, Suitable for Softwoods, plywood and corian.

SSB-94 is not suitable for Hard or Medium Hard woods.

Our SKU
Description
No #
Scroll Saw Blade Thickness
Width
TPI
Cutting Trace (Inch)
Optimal Thickness for
recommended material
Inch (mm)
Pilot Hole (Inch)
SSB-94
Pinned Regular 3"
25TPI
.0098"
.0787"
25
.0157"
1/8-4/5" (3-20mm)
3/16
SSB-95
Pinned Skip 3"
18TPI
.0150"
.0787"
18
.0205"
1/6-4/5" (4-20mm)
3/16
SSB-96
Pinned Skip 3"
15TPI
.0150"
.1181"
15
.0209"
1/5-1" (5-25mm)
3/16

What Customers Say:

Pinned Skip 5" Scroll Saw Blade #9TPI

So Much Better than Big-Box Store Blades -- 2017-06-19 I'm so pleased with these blades. I bought them based on Steve Good's endorsement, and it's so true that a good blade is like an upgrade to your entire saw. The minute I touched them I knew these blades were high quality steel. They're so much better than the big-box store blades I've been paying too much for. I'm looking forward to using these and the hook tooth blades for many projects. Also want to shout out to Bear Woods for the easy ordering process and the quick delivery. -- Angela Royea

Pinned Skip 3" Scroll Saw Blade #15TPI (.0150" x .1181" x 15TPI) (Pk/12)

Super Sharp and Very Tough -- 2017-06-12 The blades are super sharp and very tough. I have cut some CF with one of them and it still cuts wood fine. -- Patrick O'Donnell

Pinned Regular 3" Scroll Saw Blade #25TPI (.0098" x .0787" x 25TPI) (Pk/12)

Dremel Moto-Shop -- 2017-06-19 I was given an old Dremel Moto-Shop scroll saw awhile back. It had an old blade in it but it didn't cut very well. I looked all over for 3" pinned blades and couldn't find a local dealer who carried them. After finding Bear Woods, I ordered these Regular 3" 25tpi blades. After taking apart the saw, cleaning it thoroughly, re-greasing it and mounting one of these blades, it works great! I've already finished multiple delicate projects with a single 25 tpi blade and it still cuts very smoothly. For me, it worked very well on 1/4" baltic birch ply and up to 1/2" pine board. It cut through 3/4" pine but very slowly. For thicker stock, I would suggest a 18tpi or 15tpi blade. Overall, if you have an older scroll saw that requires 3" pinned blades, these will definitely do the job. Great product! -- Joshua Blais

Pinned Skip 5" Scroll Saw Blade #18TPI (.0098" x .0787" x 18TPI) (Pk/12)

Cut and last without a lot of breakage -- 2014-03-12 My saw requires pinned blades. I use it primarily for intarsia projects were smaller blades are a must. The Pegas blades cut very well and last very well without a lot of breakage. Pricing is good, shipping was reasonable and fast. I will be ordering more when I need them them. -- Daivd Brown

*