Wooden Dowel Rods - USA Made
Premium Wood Dowels in Maple, Oak, Walnut, Hickory, Poplar, Ash, Cherry and Mahogany are all kiln dried, clear, smooth and accurately sized.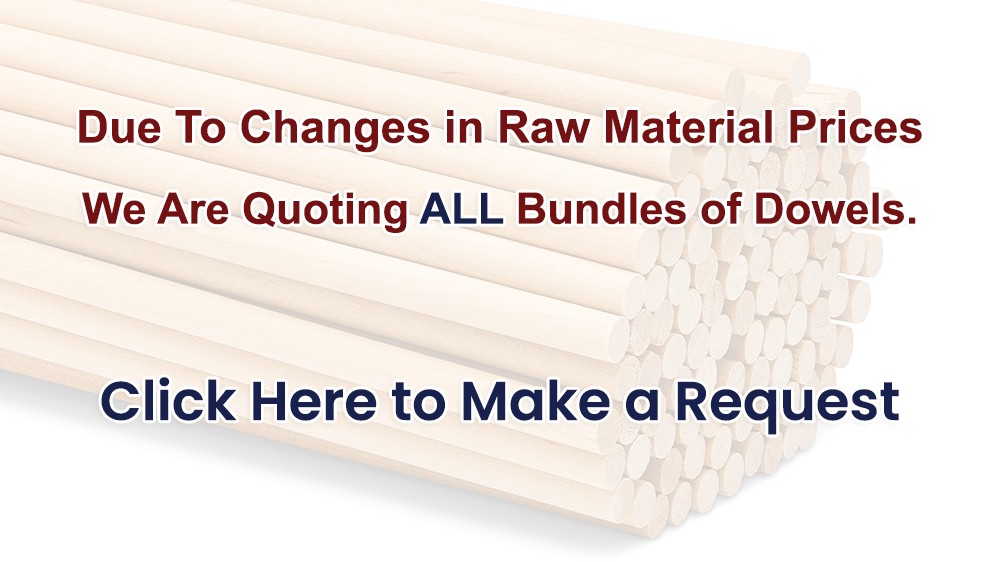 Minimum order (except Birch) is $150 for made-to-order dowels.
Click to Expand
Hardwood Dowels (Besides Birch and Available Singles) are made to order at our mills in the USA. Quality, Kiln Dried and Straight, you can count on reliable and timely production.
Dowel Rods Shopping Tips:
1) Browse by wood species below to see dowels by length and diameter, starting with 36" Lengths. (Birch is available in 12" lengths). Mix and Match bundles by size or species and get the lower bundle prices.
---OR---
Click here to contact us for a specific quantity, length, diameter or wood species. We can custom cut most doweling to any length up to 144" with diameters up to several inches.
2) Poplar and some other hardwoods can be made into beyond 48 inch lengths - we can make dowels up to 144".
3) All dowels are kiln dried and made here in the USA. (Except Birch - Essentially all Birch dowels are made overseas.) Dowel rod tolerances: +/- .010" diameter; +/- 1/32'' length
4) For special order terms and conditions, please check this page.