Clock Making Plans from Canadian Woodworker Phil Barley
Start making a clock now! Easy to follow plans - downloaded right away after you complete your purchase.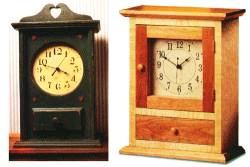 Look for a link in the email confirmation you get from Bear Woods after your purchase - it will be the name of clock plan you purchase.
Clock Building Patterns Shopping Tips:

1) All Barely Harvest Plans Indoor Furniture projects are provided as instant download. Scroll below for more info.
2) This page features letter size printing of plans. Choose either a) Letter Size Plans (lower cost but you have to use transfer paper for full size templates) or b) For our selection of Autocad/Full Size Plans click here.
3) We have a $15 minimum purchase for all items, including woodworking patterns. Options - Donate to one of our charitable causes as part of your purchase (click here to learn more), or add items to your cart to bump over the minimum.