Spoked Wood Toy Wheels
Use spoked wooden toy wheels for wood toy cars, trucks, and wagon model replicas.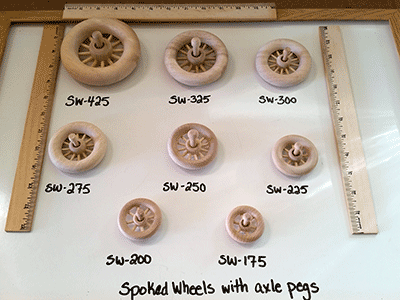 Free Axle Pegs with purchase of each spoked wooden wheel.
These are fantastic quality spoked wheels made from smooth, premium hardwood. Wooden wheels with spokes give a great authentic look. We stock everything you need to complete your project including axle pegs, dowels, smokestacks, little wood people, cargo, steering wheels and much more.
Don't forget to check out our selection of Toys N Joys Plans - for wood model cars, trucks, wagons and more.