Walnut Oval Top Wood Plugs - Round Head Wood Screwhole Plugs
Shop in Canada from our great inventory of round head wood plugs (also known as Oval Heads).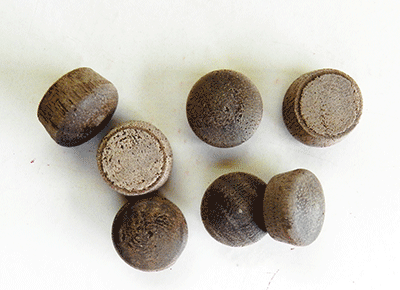 Our Walnut oval head plugs have a tapered tenon and a smooth, rounded top. They are used to plug screw holes in furniture, railings, cabinets and more. They are smooth to the touch and quality made in the USA.
How to Shop for Oval Top Wood Plugs:
1) Shop by size. Organized by diameter, from 1/4" to 1" diameter. Oval Top Plugs are 1/4" Thick.
2) Wood Plugs listed as "Per Thousand" typically require a minimum purchase of 5000 plugs if they need to be made to order at our mill - but we usually have lots ready to ship, so please order what your require and we'll do our best to keep to a lower quantity, or contact you with options.
4) Contact Us for Special Orders - Chances are we can make it for you, provided quantities are sufficient (5000 plus).
* Images alongside each product below are used demonstrate shape of plug but may not be of actual size or species.
Can I Send in a Purchase Order? Can I set-up a payment account? Yes! Contact us and we can discuss payment on account options for businesses, schools, and other institutions. Not everyone will be accepted, but we will happily discuss.