Beech Mushroom Head Wood Plugs - Screw hole Button Plugs
Shop the best selection available in Canada of Mushroom Button Plugs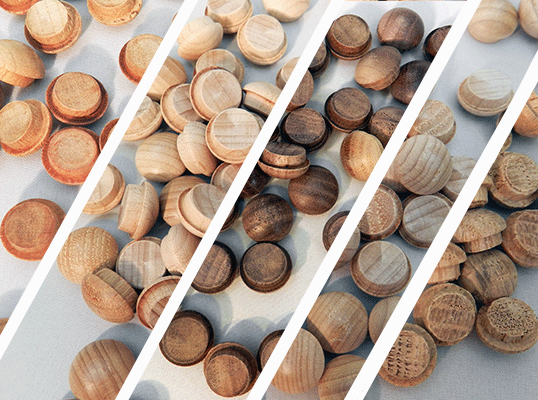 Mushroom button plugs are found everywhere in woodworking, from tables to chairs and cabinets.
Beech Mushroom Top Screwhole Buttons Shopping Tips:
1) Browse by wood species, then by size. Within each wood species, fastest shipping available on side grain wood plugs sold in bags of 100.
2) The listed diameter is the hole size these screw hole plugs will fill. The mushroom button then overlaps the hole by 1/16", making the hole completely disappear. Each size of mushroom plug features a slight taper on the tenon to ensure a secure fit.
3) Standard Tenon Length is 1/4". Look for buttons with a SKU ending in L or XL for in-stock bags of 100 plugs with 3/8" or 1/2" long tenon.
4) Contact Us to Special Order Wood Buttons with Longer Tenons. Request any species of wood mushroom buttons with 3/8" or 1/2" long tenons. (The prices is about $3 CAD more per 1000 pieces)
5) Beech Wood Plugs listed as "Per Thousand" typically require a minimum purchase of 5000 plugs if they need to be made to order at our mill - but we usually have lots ready to ship, so please order what your require and we'll do our best to keep to your desired quantity, or contact you with options.
We also supply Round head screwhole plugs, Floor Plugs and Flat head plugs with both End Grain and Side Grain. Be sure to view our entire selection of Wood Plugs.
* Images alongside each product below are used demonstrate shape of plug but may not be of actual size or species.
Can I Send in a Purchase Order? Can I set-up a payment account? Yes! Contact us and we can discuss payment on account options for businesses, schools, and other institutions. Not everyone will be accepted, but we will happily discuss.