Children's Size Adirondack Chair Package

Muskoka Chair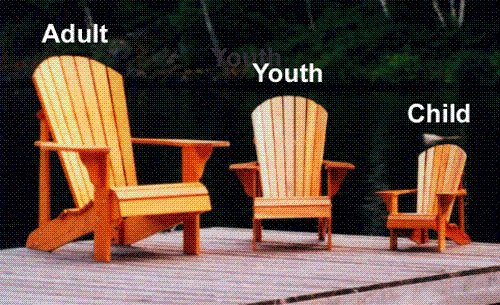 NOTE: The instructions will print to letter size paper. The link to download your woodworking plans will be in your emailed receipt after making your purchase.
Both of these chairs are reduced from the original Standard Adirondack Chair, shown on the left side, but constructed from 1/2" (13mm) cedar fence boards and brass screws. The proportionately curved seat and back allows your children the same comfort you get in the Standard chair, and gives them an opportunity to grow into the three available sizes.

The smaller plan measures 15 3/4"W x 19 7/8"D x 19"H (40cmW x 50.5cmD x 48.3cmH), and fits my 6 month old Grandson Zaphod, with lots of room to grow.

The Youth sized plan measures 23 9/16"W x 29 3/4"D x 28 1/2"H (60cmW x 75.6cmD x 72.4cmH) One of our Customers made both chairs in teak and hickory ,for his grandsons.

The traditional curved top is shown above, but the plans also include patterns for the other back designs, scalloped and picket fence , as shown on the Standard Adirondack page. Plans also include pictures and dimensions of the taper sled I use on my table saw, to cut the back slats and back support pieces. Package includes youth and child plan.

The downloadable instructions and templates are on Adobe Acrobat

. The templates will print clearly for enlarging onto graph paper found at most office supply stores, or you can make your own with a roll of brown packing paper. Plans are in standard and metric dimensions.


For your FREE download, click

Download your plans right away! Click the link on the Thank You Page after your purchase completes, or Click the Name of the Woodworking Pattern in your Receipt email from Bear Woods Supply.